General principles
The design of residential buildings for fire safety relies upon an understanding of the sources of fire, materials and systems likely to be involved in fire, and the likely spread of fire.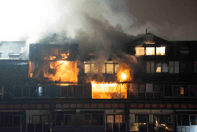 All fire safety measures, procedures, etc., need to take into account the particular circumstances of the individual residential building or complex concerned.
Fire precautions in all residential buildings – however old – need to be seen as a whole, a package aimed at achieving an acceptable standard of fire safety.
One of the factors that needs to be taken into account in establishing a minimum package of fire protection measures is;
'structural fire protection and compartmentation'
Flats and Apartments – Means of Escape
The means of escape from a flat or apartment is relatively simple.
The provisions for means of escape for flats and apartments are based on the assumptions that:
a) fire will only occur within a flat or apartment (e.g. not in the stairwell)
b) there can be no reliance on external rescue (e.g. a portable ladder)
c) the flat or apartment will have a high degree of compartmentation and therefore there will be a low risk of fire spread beyond the flat or apartment.
It is a fundamental assumption that the fire safety features within a residential building are in place and will require maintenance throughout the life of the building.
Facts
Fire Risk Design Co have conducted fire safety surveys (300+) of all types of residential building types across the UK (Aberdeen, Inverness, Perth, Dundee, Edinburgh, Glasgow, Manchester, Leeds, Birmingham, London and Wales).
These surveys have included student accommodation, sheltered housing complexes, retirement blocks, general needs residential blocks and care homes.
95% of all buildings surveyed (older properties and new build) did not have adequate compartmentation measures in place or adequate maintenance of installed fire safety measures to reduce the likelihood of fire spread beyond the flat or apartment of origin.
Recent incidents
November 11, 2019 – Southside Glasgow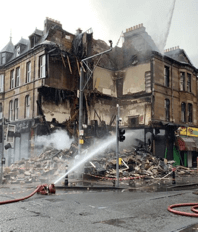 A four storey tenement building in Glasgow's southside collapsed after a fire spread from a ground floor shop into the flats above. Residents were evacuated and one person was treated for the effects of inhaling smoke.
The fire which is thought to have started in the ground floor shop destroyed the shop and the flats above, eventually causing the entire building to collapse.
December 9, 2019 Lancefield Quay, Glasgow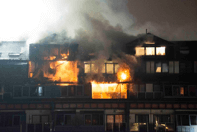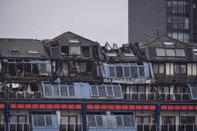 30 flats were extensively damaged following a fire within a block of flats on Lancefield Quay, Glasgow.
Over 60 firefighters were called to tackle the fire which is believed to have started in a second floor flat.
It is reported that residents in the most affected areas of the building are likely to be displaced for up to 18 months.
How could this happen?
Based on the design assumption that a a flat or apartment will have a high degree of compartmentation there will be low risk of fire spread beyond the flat or apartment in which the fire originally occurs!
Flats and apartments should be designed and built to provide 60 minutes fire resistance between flats/apartments and the common areas (corridors and stairs). The concept behind this is to allow time for safe escape and sufficient time for the fire and rescue service to arrive and contain the fire to the flat or apartment of origin.
Fire Risk Design Co
Based on our extensive experience 95% of all residential buildings surveyed do not have adequate standards of compartmentation.
Typical failings include inadequate compartmentation within roof spaces, service riser cupboards/shafts and breaches where service penetrations (pipes, cables, ducts) have taken place, this also includes inadequate fire stopping by unqualified contractors after work has taken place within residential blocks.
How can we help?
Our consultants are highly qualified, holding BSc (Hons) in Fire Risk Engineering, they are approved Life Safety Building Risk Assessors, trained fire investigators and hold Corporate Membership of the Institution of Fire Engineers.
We conduct full building surveys, we specialise in residential buildings, offering practical advice, remedies and training for maintaining adequate compartmentation within buildings.
For a free no obligation quote please contact enquiries@fireriskdesign.co.uk or call 07833 205 224.